How to Put Together a Stellar Movie Night
Who doesn't love a trip to the movie theater? Whether it's date night or an outing with friends and family members, a trip to the movies is a surefire way to bring about plenty of laughs, giggles, shocks, and tears - depending on the type of film you're watching, of course. 
But in these times, it's hard to find an even open movie theater. And even if they were, movie prices are pretty outrageous, and we are of course in the midst of a global pandemic. What if I told you that you could put together a stellar movie night that stands up to the priciest, most extravagant movie theaters? It can be done, and you're sure to have a blast. Check out the tips below for creating the ultimate movie night experience at home.
 
Dress Up to Fit the Movie
Picking the movie is obviously the most important of having a movie night, but that goes without saying. If you have family and friends over, you need to make the visit a bit more exciting than a bucket of buttery popcorn (although that is a must).
Consider dressing up to fit the movie style. Watching a horror flick? Dress up like it's Halloween runner-up. Are you viewing a romantic movie based on the 1800s? Dare your friends to dress up like they're right out of the pilgrimages. Whatever the type of film you're watching, have everyone dress the part.
 
Dress Up Your House, Too
Now, you can go all out with decorating your home based on the movie type. But that is not necessary. Instead, you can focus on making your home look like a real movie theater (or even better than a real one). Here are a few great tips to make it happen:
●     Create an "aisle" using holiday lights.
●     Create comfortable seating by adding extra blankets and pillows.
●     Add themed movie decor, such as movie posters and a Now Playing poster featuring the movie you will be watching that evening.
●     Take it outside with a projector, lawn chairs, and hanging lights.
Create a Snack Bar
Nothing says movies quite like a snack bar. Kids and adults will both enjoy having a snack bar nearby to allow them to indulge in all of their movie-going favorites. With that said, you need to have all of the must-haves on standby. Your snack bar should have:
●     Popcorn. Create different flavors, such as cheesy popcorn or Zebra popcorn, which incorporates sweets like chocolate.
●     Candy. Every movie theater snack bar is riddled with favorites. Pick up some M&Ms, Skittles, Mike & Ike, and other favorite candies and have them on display for purchase.
●     Beverages. Guests get thirsty with all of that yummy buttery popcorn! Make sure there are beverages, whether you opt for water and soda or interest the adults in beer or a mixed drink.
●     Nachos. Cheesy goodness is something that nobody can resist. If you're looking for more of a meal rather than just a snack, opt for nachos. Offer different toppings to ensure everyone's happy.
●     Hot dogs. A hot dog is a premium pick for those looking to fill their bellies rather than nibble on treats.
●     Champagne and strawberries. If it's a romantic movie date night, consider going fancy with the foods instead. Champagne in gorgeous glasses and chocolate-covered strawberries set the mood.
Add Games and Prizes
Movie night doesn't have to just be movie night. Make an entire adventure out of it! Adding games and prizes that go hand-in-hand with the movie is a great way to spice things up and make the night one to remember. Play some trivia after the movie is over or act out scenes to see if the other group can guess.
 
Consider an Intermission
For larger gatherings, an intermission is a splendid idea! During the break, guests can chit chat and catch up with one another. They will also gather more snacks from the beloved "snack bar" and use the bathroom without skipping a beat. After all, whether you're at the movies or at home, who likes to miss any part of a film?
 
Make The Experience "Real" With Ticket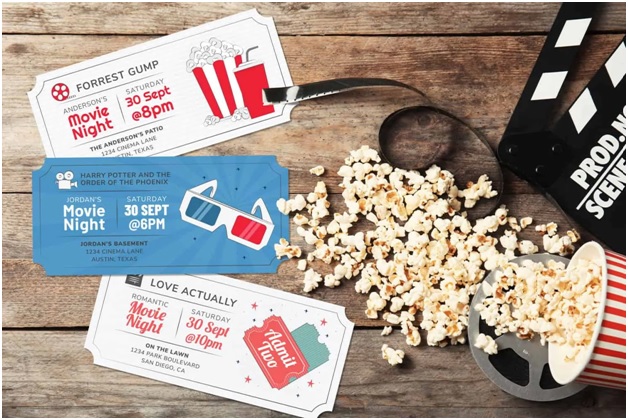 Making tickets that look like the real deal is always fun, no matter how old you are! Whether you're putting together a kid-friendly evening or reserving the night for adults, whip together some tickets for the movie. It's easier than you think, especially when using a ticket generator.
Movie night is a great way to have a good time, whether you're getting together with friends or having a family movie night. Ask your guests to dress up, provide delicious treats and foods, and turn your house into a real movie theater. There is tons of fun to be had. The only question remains - What movie will you choose?