5 Useful Things You Can Personally Create Out of Old Moving Boxes
Some disused and old things at home are not trash until you throw them away. 
Among the most common house items found in storage rooms and dusty corners are old moving boxes. For whatever reason you might have them, know that they are much more valuable than you think they are. Not simply "boxes", these moving boxes which have been long-stocked and forgotten inside your abode can be turned into more functional and creative stuff! 
Want to know how? Here are 5 useful things you can personally create out of old moving boxes! They can look as good as new or can be shabby and exhausted; however they appear, they can still be purposeful!  
 
1 - LITTER BOX FOR PETS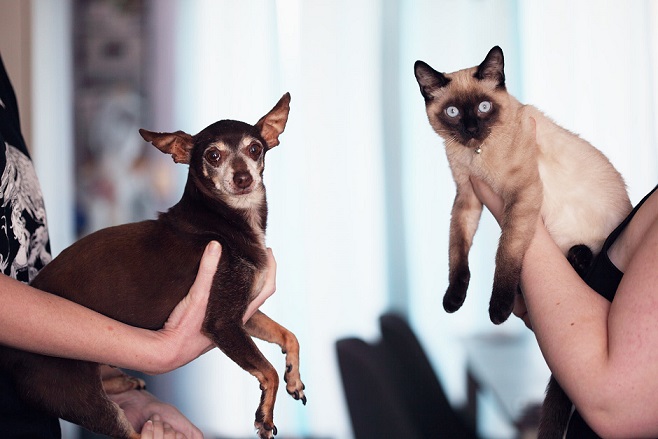 Housepets such as dogs and cats need to be given a nice area to go to when they have to discharge wastes! If not, their doings will give you a constant headache.
Branded litter boxes could be costly if you are having a tight budget, but you can actually be sharp and resourceful to still be able to give your fur babies a comfy place to pee and poo! An old and no-longer-used moving box can be the star! 
Just make sure to upgrade and refine it first, so it can suit your pet's bathroom needs. It should not be bare because your pet will still make a mess if so. Cover it with plastic, so it is easy to clean and will not stain. Stuff it with newspapers or scratch papers, so when the pet does its thing, you can just throw them away in one go.     
The exciting part about your homemade litter box is that you can embellish it as you please! Because it's a moving box, you may draw on it, stick stuff on it and paint it if you want to. Who said your pet's litter box can't be fashionable and customized without spending a lot, right?!   
A used moving box as a litter box is practical and functional. Since it is secure and generally enclosed, you can ensure that the smell and sight of your pet's litter are hidden away from you and your guests. Set it on the right place, and clean it as much as needed. This is a private and cushy space for your pet and a big relief for you! 
 
2 - FLOOR PROTECTOR FOR HOUSE PAINTING
Redecorating, revamping and repainting your room is a fulfilling activity, but when you realize it can be quite messy, it can be so stressful. 
Good thing that you haven't thrown away those dusty moving boxes from last year! You can recycle them into floor protectors and covers while painting walls and ceilings. Others buy actual seals and plastics to keep floors from hard-to-erase paint splats, but you can reduce financial costs by using those boxes. Flat them out and cut them as you see fit, so they can spread extensively.
 
3 - PAPER AND BOOK COMPILERS
Don't just let your magazines, newspapers, books and other print materials be thrown around couches and corners at home. No shelf? No problem. Bring out those discarded moving boxes from the attic, and make compilers out of them! 
What's amazing about doing this is that there are lids that can protect your dear mags and journals from dust and dirt that can olden them and from bugs that can wreck them all. Adorn them with pretty scrapbook designs, buttons, ribbons and the like, so you can display them in the living room. When visitors come, they may open those boxes to look for something to read. They won't know those are moving boxes. *wink* 
 
4 - PRACTICAL GIFT BOXES
Sometimes, you are too busy to buy gift wrappers and boxes, or your presents are just too big for the ones available in the market to carry them. Your disregarded moving boxes are there to save you and your pockets!
Large and extra-large moving boxes are advantageous for birthday gifts and wedding presents which are huge and fragile or simply enormous. If the bookstore doesn't have a box that fits a teddy bear you want to give as a surprise to your niece, that moving box under your office desk is the answer! 
Whatever your gift is, just clean the moving boxes you plan to use, beautify it and do the trick, so it won't obviously look like itself. Note that this DIY is much more feasible if your moving box is plain and simple -- not stamped with the moving company's name and not printed with your item labels.
 
5 - ECO-CONTAINERS FOR PLANTS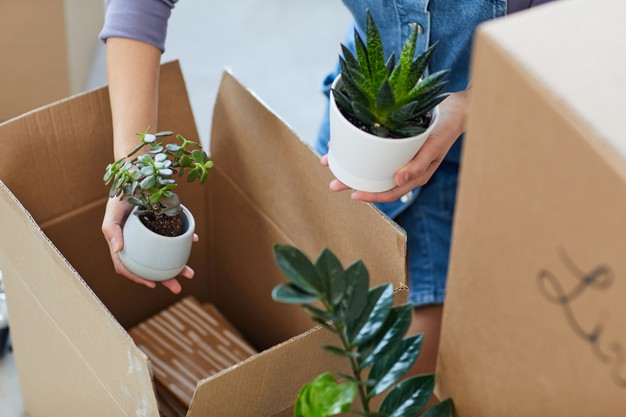 Environment-friendly moving boxes can be turned into eco-containers for your darling plants! With just a bit of fancying and sprucing up, they will definitely refurbish your home garden. 
Attach ropes and hooks if you want to create hanging planters out of them. Put bows and other ornaments that can make them your chic pots. See to it that they are secure, so the soil will not fall off and bugs will not have access to your babies! 
Furthermore, take note that if you choose these boxes as your plant holders, you will need to replace them immediately when they decay. Put another set of them on standby or a couple of actual ceramic or plastic pots to put inside the next time.
 "Nicole Pore is the writer of this article."